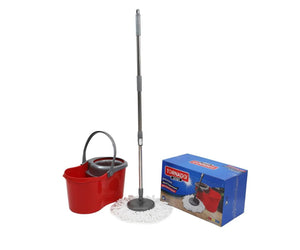 Tornado Smart Mop & Bucket
Our Tornado Smart Mop & Bucket brings revolutionary cleaning technology to your home. Designed to make your cleaning routine effortless, this innovative mop and bucket set will transform the way you clean your floors.
With its advanced features, the Tornado Smart Mop & Bucket provides superior cleaning performance. The mop head is made of high-quality microfiber material that effectively captures dirt, dust, and grime, leaving your floors sparkling clean. The microfiber material is also gentle on all types of flooring, preventing scratches or damage.
3 Litre Bucket
Mop, Wringer and Bucket Included